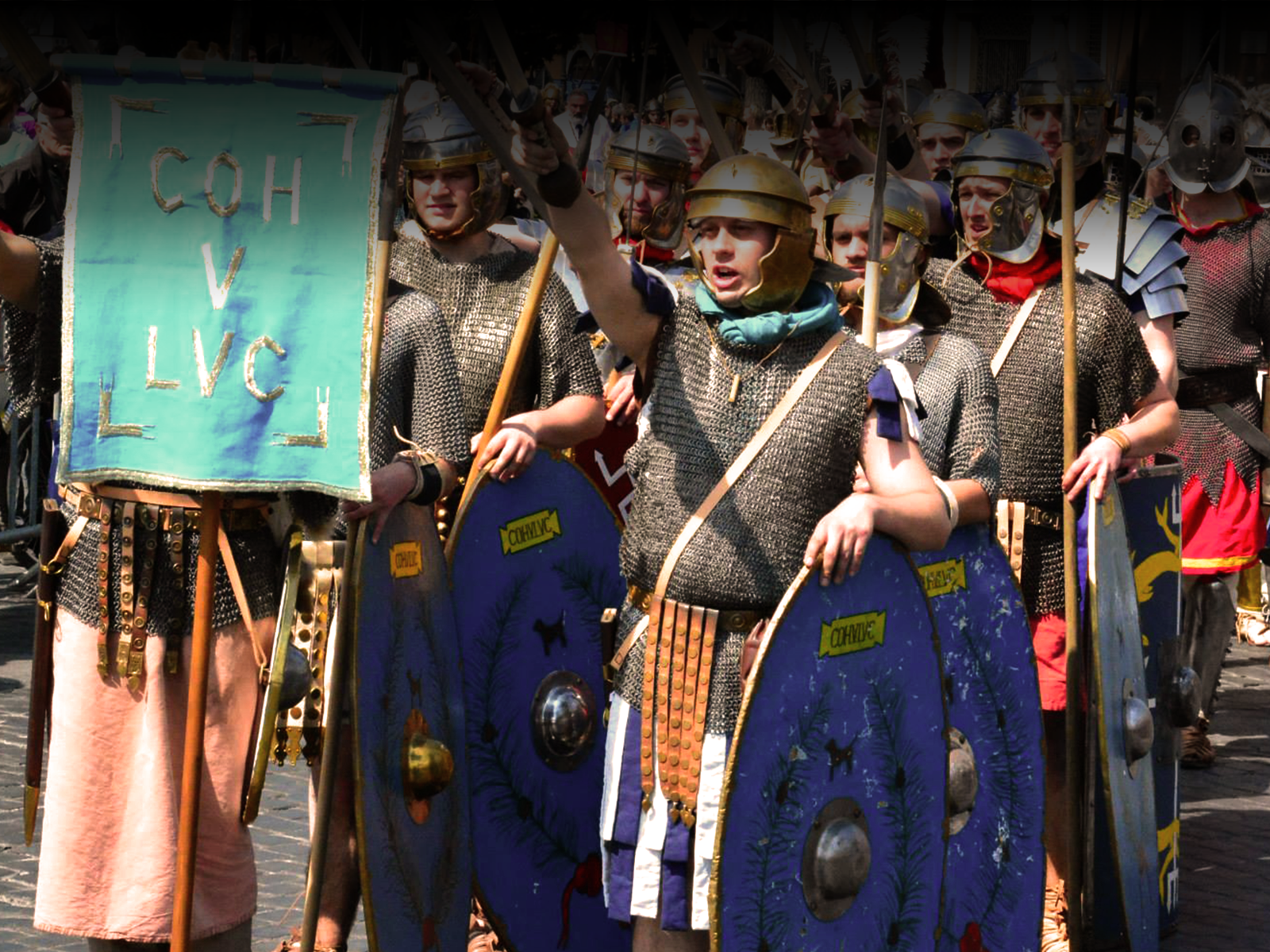 S.C.E.A.R. : Roman army and auxiliary units
The title of organisation, S.C.E.A.R. Is a an abbreviation from latin translation of the civil association, Societas Civilis Exercitus Auxiliorumque Romanorum, meaning The civil association of Roman army and auxiliary units. The fundamental focus of association lays in education and presentation regarding the ancient military history.
Our members are being trained in ancient martial arts and in handling various weaponry (e.g. gladius). This knowledge is used in composing performance act based on fencing and theatre, or in improvised duels or battle reconstruction alongside other reenactment groups based on Ancient Rome history.
Subsequently, our members are encouraged to study civil history and artisan crafts. Crafts are useful for making parts of the equipment (tunicas) or gear (shields,shoes). Least but not last - members are honing their skill in theatrical performance and reenactment.
During its lifetime, our association was honoured to be part of prestigious events home and abroad. We visited Rome multiple times and were part of main event during the celebrations of Rome's birthday in Italy. We were part of protohistorical festival of Liptov. We cooperate with three museums of western Slovakia. We were part of Roman games of Limes Day in Rusovce, Slovakia. We composed many performances we presented on cultural events home or abroad.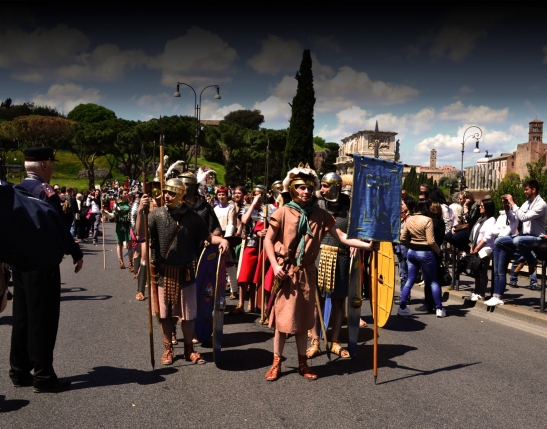 Join us
What to expect in our group ?
If you are interested in history of Roman military techniques, strategy, roman culture and society or politics - you are welcomed here. You will find :
Training
Systematic education of roman martial arts.
Artisan crafts
Get skilled in the artisan crafts by making parts of costume and gear.
Performance
Presentation of our performance skills in form of living history and fencing duels.
Workshops
We are providing educational programs for kids and students and we spread knowledge by practical examples.
Visiting Rome
Multiple times, we were part of celebrations of Natale di Roma.
WE WOULD LIKE TO ENRICH YOUR EVENTS BY OUR PERFORMANCE. WE WOULD LIKE TO BE A PART OF YOUR CULTURAL OR HISTORICAL EVENTS.
We offer Roman army was known for its exceptional levels of military technique. The showcase of military might might be experienced by combination of fencing and theatre we offer, or by presentation of military exercise accompanied by professional narration during the demonstration of life of common roman soldier. Every piece of our program is enhanced by information about life and equipment of the soldiers. Length of the program depends on your order.
Roman auxiliary troops were hired as the personal guard for statesmen and public officers during long journeys across the provinces of the empire. We are offering you these services too - as the guards during the historical events, culture festivals or private events. We may enhance your history lessons or children retreats. We will tailor you a price based on your recommendations. We offer educational lessons in handling roman gear, getting to know roman realia, play roman board games, kindle the fire as the Romans did or plethora of other activities that Roman army and civilians performed on daily basis across the empire. This includes presentation of ancient roman cuisine prepared in recreated mobile oven - craticula.
Leave us the e-mail in case you want to stay in touch regarding the news.
Stay in touch
Gallery
A few photos of our activities
military might of roman army in action
S.C.E.A.R. brings you enjoyment for history lovers for over 10 years. We are here for those who are curious about Roman army, especially in relation to roman borders across Danube. Join us or enjoy our performance !